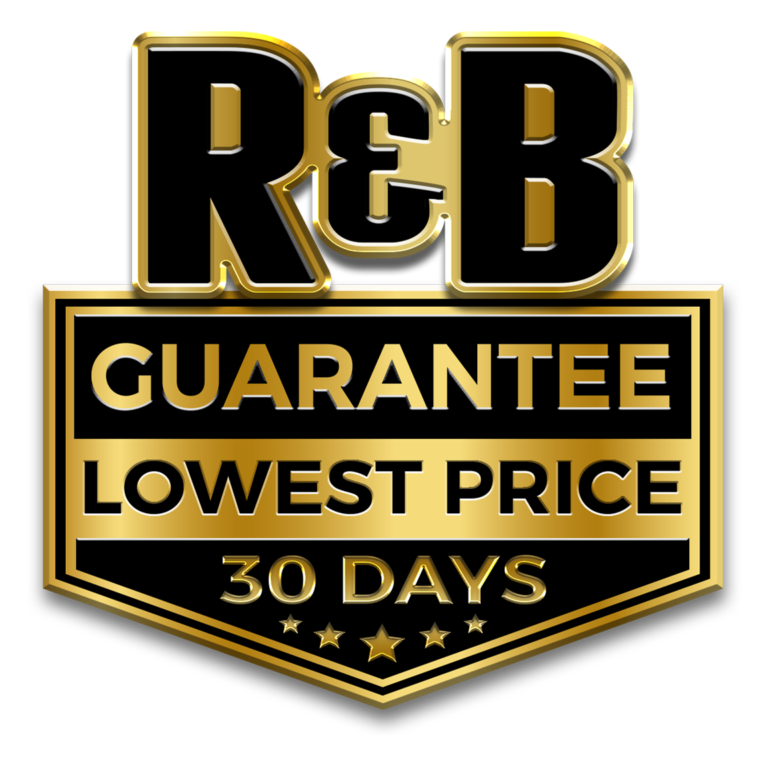 We're committed to competitive prices for every customer.
If you find a lower price on an identical building offered by a qualified retailer within 30-days of placing your order, we'll match it, and refund you the difference!
---
To qualify for R&B's Lowest Price Guarantee, all submitted quotes must:
• Be in writing, and contain identical customer identifiers (Cannot be an Ad)
• Contain identical building/installation details such as sizing, gauges, colors, options anchors. etc.
• Be from a verifiable competitor, with an active website, who sells / installs in the same area as R&B
• Be submitted to R&B digitally using the button above
---
Find a lower price? Click the button below to submit a request
EXCLUSIONS: Discontinued, used, refurbished, clearance, going out of business, liquidation or damaged (dings & dents) material items. Cannot be combined with any other offer, promotion, discount, sale or coupon. Requests submitted by anyone other than the original purchaser on file. Discounts offered to select groups of customers, such as military or loyalty members. Volume or wholesale discount pricing. R&B reserves the right to limit requests to reasonable quantities. Membership-based pricing. Third-party marketplace sellers, auction sites or closeout/discount sites. Pricing from bid and auction websites. Sales tax is excluded. Partial quotes, or quotes that do not include delivery and installtion. Advertising pricing errors or misprints. Quotes deemed to be altered or fraudulent. Credit terms and finance offers. Quotes for zip codes outside the installation address. Building orders placed more than 30-days prior to submitting a price match request. Orders placed at any point prior to a R&B sale or seasonal price reduction event. R&B reserves the right to update any qualifications & exclusions for this guarantee at any time without prior notice. Quotes for sale prices outside of the actively advertised sale window or timeframe. Any building where the advertised lead time by the competitor exceeds R&B's advertised lead time. Offer limited to one submittal per customer, per 30-day period. Void where prohibited. All refunds are issued by check, within 30-days of request approval.